ABOUT US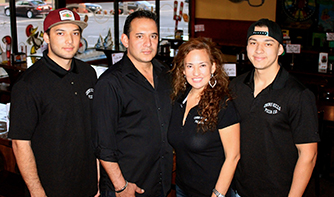 About Us
The Pizza Companies have been in business for over 20 years. We have built our business by making great quality food at an affordable price. We take pride in being a community based company with a friendly atmosphere for all to enjoy!
Pizza Night Fundraiser
Set up any available night Monday through Thursday. We create the flyer for you or you can create your own, the more family members and friends you invite the more funds you get. So Advertise, Advertise, Advertise.
We Donate 15% of all proceed including alcohol, before taxes. This includes dine-in or take out only… No flyer needed!!!
Upon receipt of the exact name of your organization, Address, & the tax id# we will give you a check within a week after your fundraiser. EASY & everyone LOVES PIZZA… read more
Team Party
Book your team party with us in advance, and we will provide 2 free pizzas and 2 pitchers of soda. We require that you wear your team jersey the day of the party and that you book your team party in advance, as our weekends get booked fast. Limit 2 hours per party.
Our Other Locations
Hacienda Heights
Duarte
Monrovia
East L.A.
La Verne
Sierra Madre